PRESENTS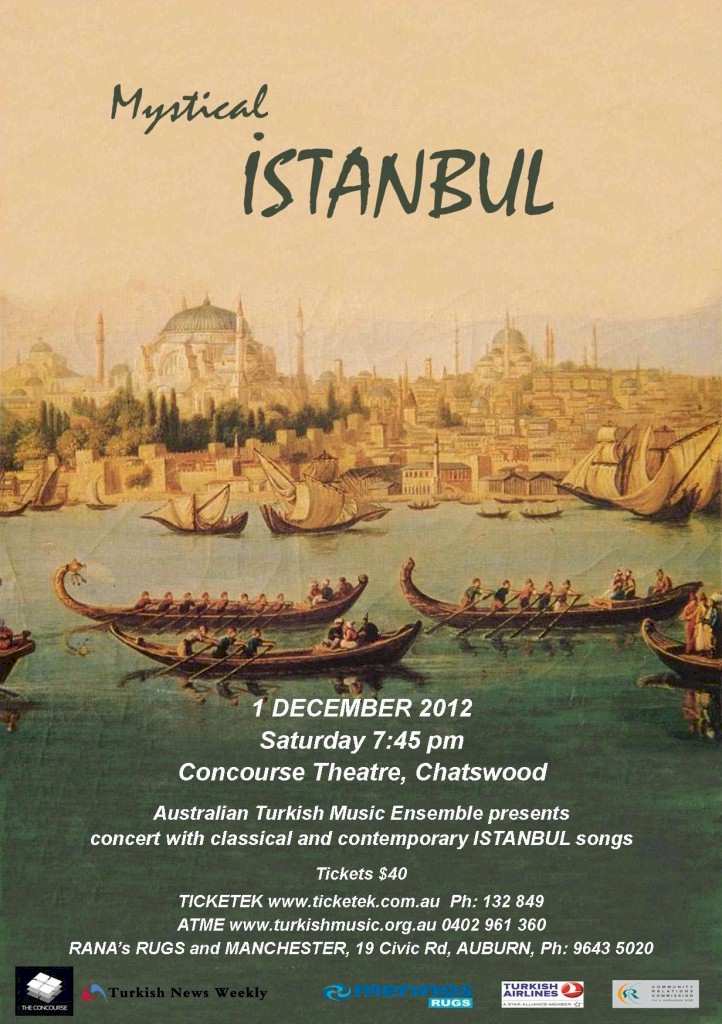 An unforgettable journey into the past and present Istanbul with classical and contemporary songs.
SATURDAY, 1 DEC 2012
Concourse Theatre, Chatswood
TICKETS ARE ON SALE NOW
Ticketek.com.au
Australian Turkish Music Ensemble presents a unique musical event with the Ensemble's choir, soloists
and 17 piece orchestra including traditional instruments ney(reed flute), kanun(zither) and oud.
Istanbul is a 7000 years old city bridging two continents and many cultures, and her music too carries the flavours
of many ages, cultures and continents, delightfully combining eastern and western traditions.

Australian Turkish Music Ensemble Inc. is a non profit organisation committed to present
finest examples of Turkish Music to the Australian music lovers through it's local musicians.

Ensemble's musical director Fikret Öztas explored new dimensions in the richness of the
Anatolian music with some of his own compositions, interpretations and polyphonic works.

Tesekkür

Avusturalya Türk Müzigi Topluluğu destekleri için Turkish News Weekly gazetesi ve yöneticilerine tesekkür eder.