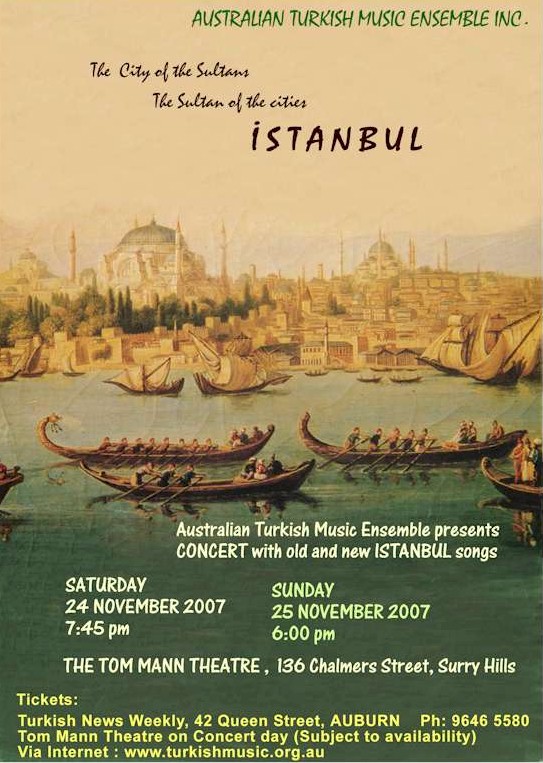 CLASSICAL TURKISH MUSIC
CITY OF THE SULTANS                            
SULTAN of The CITIES
ÍSTANBUL
SATURDAY
24 NOVEMBER 2007
7:45 pm
THE TOM MANN THEATRE
136 Chalmers Street, Surry Hills
Video Sample from Concert
CONCERT
PHOTOS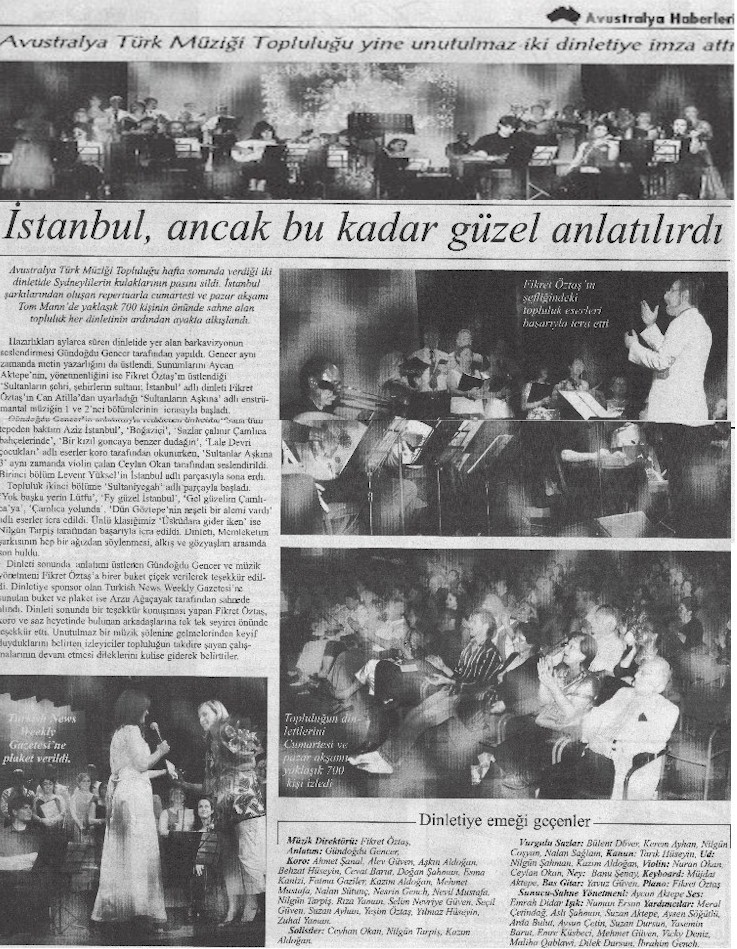 PROGRAM

Sultanlar Askina I : For The Love Of Sultans (I) : Instrumental
Sultanlar Askina II: For The Love Of Sultans (II) : Instrumental
Music Sample from Sultanlar Askina II
Sana Dun bir tepeden baktim Aziz Istanbul:
Yesterday, I Gazed at You From A Hilltop My Beloved Istanbul.( This song is based on a poem from the famous Yahya Kemal Beyatli who declares "although there are many colourful cities in the world, you are the one who creates, who owns the charming beauties by privileging the people who dream, die and rest with you.")

Bogazici: Bosporus, You Are The Cradle of Joyful Hearts
Sazlar çalinir Çamlica'nin bahçelerinde: Musical Instruments Are Played At the Gardens Of Çamlica.(Çamlica is the famous, beautiful enjoyment gardens on the Asian banks of Bosphorus.)

Bir Kizil goncaya benzer dudagin: A Red Budding Rose is your lips.(Sunset in Istanbul is another spectacular event)
Lale Devri çocuklari : The Children From The Era Of Tulip.. (period from 1718 to1730 is called "'The Era Of Tulip", famous with its tulip gardens, as it witnessed the elite indulging in more earthly pleasures of life as well as mysticism, music, literature and arts)
Sultanlar Askina III For The Love Of Sultans (III)
Istanbul (This contemporary Istanbul song is about the wish of hugging Istanbul as a lover)
(INTERVAL)
Yok Baska Yerin Lütfu Ne yazdan: This Istanbul song asks " If the heart does not fall in with Istanbul, it has no understanding of Love..."
Ah Güzel Istanbul Oh, Beautiful Istanbul "My dear love, your beauty is reflected in the blue waters of Bosphorus".
Gel Güzelim Çamlicaya Come my beauty, to Çamlica, let's meet secretly tonight before the sun rises...
Çamlica Yolunda On the way to Çamlica, Your lover on your arm...
Dün Göztepenin neseli bir alemi vardi Yesterday, Göztepe had a fun time, Your Joyful laughter filled the bosom of the gardens..(Göztepe was another Istanbul suburb well known with its gardens)
Üsküdara gider iken On the way to Üsküdar, started a rain...
Memleketim My country is somewhat different..

Fikret Öztas
Musical Director -Conductor
Gün Gencer
Narration